Charleston Sailing School has expanded!
We are now operating our second location from the crown jewel of the Caribbean, The Spanish Virgin Islands. These enchanted islands have remained largely untouched with large wildlife preserves and minimal development over the years. The picturesque natural settings coupled with vibrant local cultural identity will provide our guests with experiences unlike any other. You can now escape the bustling ports and crowded mooring fields of our neighboring islands to find private beaches, small locally-owned establishments, and exclusive anchorages.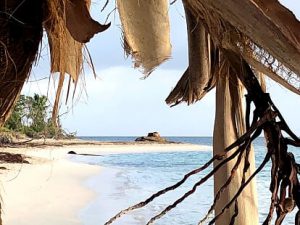 From Puerto Del Rey Marina in the town of Fajardo you will have instant access to the islands of Culebra, Vieques, and beyond. The Spanish Virgin Islands are situated just a few miles off the east coast of Puerto Rico, guaranteeing exceptional sailing conditions and steady tradewinds year-round. Puerto Rico is an easy and affordable destination for many travelers. After arrival in San Juan a short trip to Fajardo will put you within immediate striking distance of numerous cays and islands in the archipelago that are saturated with natural beauty.
The Spanish Virgin Islands are ripe with wildlife above and below sea level. Numerous hiking trails and miles of pristine beaches are just a short dinghy ride away! For those of you who like to spend your time below the surface, some of the healthiest reef systems anywhere in the world exist in these waters. The Vieques and Culebra National Wildlife Refuges are home to several plants and animals on the Federal endangered species list including; the Antillean manatee, the brown pelican, and four different species of sea turtles. These islands are pure
paradise for any outdoorsman and conservationist.
Immerse yourself in the rich Spanish heritage while exploring these picturesque territories. The heart and soul of local establishments permeates the air with sweet aromas and flowing rhythms. Family owned restaurants and shops guarantee to keep the local culture alive and well for generations to come. Only here can you fully relax as you escape from civilization as we know it.
The time has come to create new memories. In the immortal words of Mark Twain:
"Twenty years from now you will be more disappointed by the things that you didn't do than by
the ones you did do. So throw off the bowlines. Sail away from the safe harbor. Catch the trade
winds in your sails. Explore. Dream. Discover."
Allow us to provide you with a unique sailing experience. Classes and Charters are available now. Please call or email for pricing and availability