Captain William Miller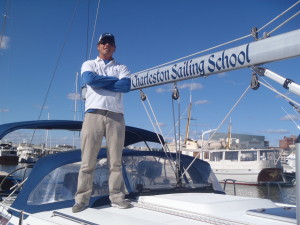 Capt. Will Miller grew up in Virginia and learned to sail in the Chesapeake Bay aboard a classic Newport 30.  Will developed a love of the water at a very young age and has sailed extensively throughout the waters of the United States Caribbean, and South America. By the age of 18 he decided to pursue a career on the water. While attending the College of Charleston he worked at the Charleston City Marina catching docklines and refueling mega yachts. Post-graduation he honed his skills while living and working in Negril, Jamaica. During his time there he worked for a family owned restaurant, fuel dock, sport fishing, and sailing charter company experiencing island life at its finest. Will returned to Charleston in 2006 and became a licensed Coast Guard Captain and full-time instructor. Since then Will has been named an "Outstanding Instructor" by the American Sailing Association 4 times. With over 50,000 blue water miles logged on a variety of yachts, Capt. Will is an experienced captain that is able to share his knowledge in a clear and extensively detailed manner.
Captain Sterling Bryson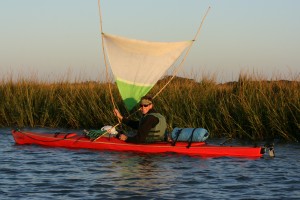 Sterling has been teaching sailing in Charleston on and off for the past 15 years.  In between stints as a sailing instructor for adults he worked on old schooners and traditional rigged tall ships doing sail training programs with kids, including a stint as captain of the Spirit of South Carolina.  Also peppered in that time were sailing adventures through Indonesia and a voyage from Fiji across the North Pacific back to California.
Sterling was blessed with some outstanding parenting that developed the sailing bug early in his life. He has been in, on, and around boats since early childhood.  Growing up in Miami, weekends were spent cruising the Florida Keys and a couple summer voayges to the Bahamas.  By high school, Sterling's family found themselves living in the sailing mecca of Pittsburgh, PA, only a four and a half hour drive away from Annapolis and the astounding Chesapeake Bay.  When he graduated high school his parents quite simply said, "Way to go son.  We are real proud of you. See ya!" They sold their house and took off on their sailboat.  Family holidays from then on were spent is some new tropical locale and it didn't take long for Sterling to realize that he didn't want to work for 25 years and then go do what his parents were doing.
After experiencing a handful sailing adventures in the Pacific (and misadventures!), Sterling began working professionally on the water as an educator.  He taught sailing to adults here in Charleston for a couple years before an old wooden schooner sailed into the harbor and the lure of "a little more canvas" pulled him away to sail aboard traditionally-rigged sailboats on the West Coast.  He has since come back to Charleston, "settled down" and once again become a full-time sailing instructor with ASA and the Charleston Sailing School, sharing his experience and knowledge with incoming students from Basic Keelboating through Coastal Navigation.
Sterling can often be found on the water with a little strawberry blond mate, now sharing his love of the sea with his daughter, like his parents before him.
Captain Pat Rybas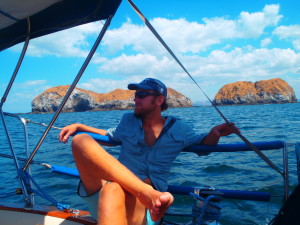 Captain Pat grew in Philadelphia on the Delaware River. His early years were spent power boating, but there was plenty of sailing bred into his family genes. Pat spent his summers on the Jersey Shore sailing Hobie cats, surfing, and kite boarding. After graduating college and working in the "real" world for a couple of years Pat and his brother bought a Bob Perry designed Tashiba 40 in 2009. After an 11 month refit "Hartley" was ready for the water again and the adventure of a lifetime. Pat sailed "Hartley" from Philadelphia to Tahiti before moving back to land and winding up in Charleston in January of 2014. With a boat load (pun intended) of experience from his adventures Pat is excited to pass his knowledge on at the Charleston Sailing School.
Captain Frank Silvestro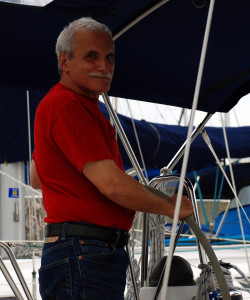 Frank began sailing as a teenager on the waters of Long Island Sound, New York. Before long, he extended his cruising grounds North through New England and South to the Chesapeake. The Vietnam war put a crimp in his cruising, but after being discharged, he made up on-the-water time sailing the waters of the U.S., Mediterranean and Caribbean, with trans-Atlantic voyages on small sail boats thrown in the mix. He has written on sailing for the New York Times, The South Street Reporter (the magazine of New York's South Street Seaport), the Long Island Press, and assorted boating magazines.
Frank holds a U.S.C.G. Merchant Mariners license, with sailing and towing endorsements, and before retiring to Charleston, SC, was one of the two owners of SeaSchool (a national school that trains Merchant Mariners for licenses up to 1600 gross ton vessels, power and sail).
If he's not sailing, he's teaching, and has been an ASA sailing instructor since 1992. In his words, "People have sailed this planet for thousands of years. Learning to sail shouldn't be complicated or arcane. The idea is to have a fun and exciting time learning!"