Charleston Sailing School specializes in creating unique yachting adventures. From our location downtown at the Charleston City Marina we offer a fleet of sail and power yachts available for Sailing Lessons, Private Yacht Charters, and Bareboat Charters. Have you ever dreamed of owning your own yacht? Our team of brokerage professionals can guide you through the search, purchase, and maintenance processes when you decide to pursue the yacht of your dreams. Inquire about your options today!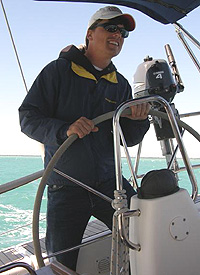 Charleston Sailing School is an affiliate of the American Sailing Association We offer a series of internationally recognized sailing certifications that will have you sailing the high seas in no time. After completing the Bareboat Chartering course students can charter yachts up to 55ft anywhere in the world! Charleston Harbor provides an ideal setting for our customers to relax, learn, and enjoy the sport of sailing.
Charleston Sailing School is the only operation in South Carolina offering Private Yacht Charters and Bareboat Charters aboard a variety sail and power yachts. Our yachts are all impeccably maintained and designed for ease of handling, comfort, and enjoyment. Whether you are looking for a few hours of relaxation in Charleston Harbor or a week of open water cruising we promise to exceed your expectations.
Charleston Sailing School has partnered with 5 Oceans Marine Group and the Multihull Company to provide professional yacht brokerage services. We are able to aid our clients in finding the perfect yacht, while offering private and charter management, delivery and post purchase service unparalleled in the yachting industry. Are you ready to sell your yacht? We have the ability to advertise your yacht on the global marketplace for a quick and easy sale. Allow us to represent your best interests when the time comes.
Charleston Sailing School is different than our competition, and we like it that way. There is nowhere else in South Carolina where can you train, charter, and purchase a yacht. We are the only American Sailing Association affiliate on the coast of South Carolina, and we are the only Bareboat Charter operation in the state! Go ahead and compare us with our competition. We know you will choose Charleston Sailing School if you want the best investment. We look forward to sailing with you soon!